Sale
Agritourism in San Casciano dei Bagni
SAN CASCIANO DEI BAGNI (SI)
---
The farm is located in San Casciano dei Bagni near the border with Umbria and Lazio, in one of the most picturesque corners of Tuscany. The farm is spread over an area of ​​25 hectares, composed principally of arable land, olive grove and forest. The farm is cultivating olive trees and produce extra virgin olive oil for more than 10 years, produce saffron and honey (around 50 hives).

The property consists of a major Villa (700 square meters) and an Annex (70 square meters). Both real estate units have been furnished with the utmost respect of the Tuscan traditional style.

The major Villa consists of:
- 5 rooms (30 square meters each), with bedroom and en suite bathroom. Each room has its own history and the characteristics that make it unique.
- the reading room of over 50 square meters where you can read, relax and enjoy peace and silence;
- a living room of over 100 square meters with a large (over 3 meters) and beautiful fireplace. Adjacent to the living room a service bathroom and large pantry with washing machine).
- a kitchen of over 25 square meters complete with all the necessery elements.

The dependance consists of:
a double bedroom, a dining room with kitchen, a pantry with washing machine and a bathroom. In addition apart of the heating system there is a masonry fireplace.

In the front of the Villa a beautiful swimming pool that creates a very relaxing atmospher and from there opens up an unforgettable panoramic view.

---
Contact us
Town
San Casciano dei Bagni
Energetic class
Non indicata
Consistenze
Description
Surface
Sup. comm.
Sup. Principale

770

Sq. mt.

770

CSqm

Cantina collegata

0

Sq. mt.

0

CSqm

Giardino appartamento collegato

250.000

Sq. mt.

1.373

CSqm

Total

2.143

CSqm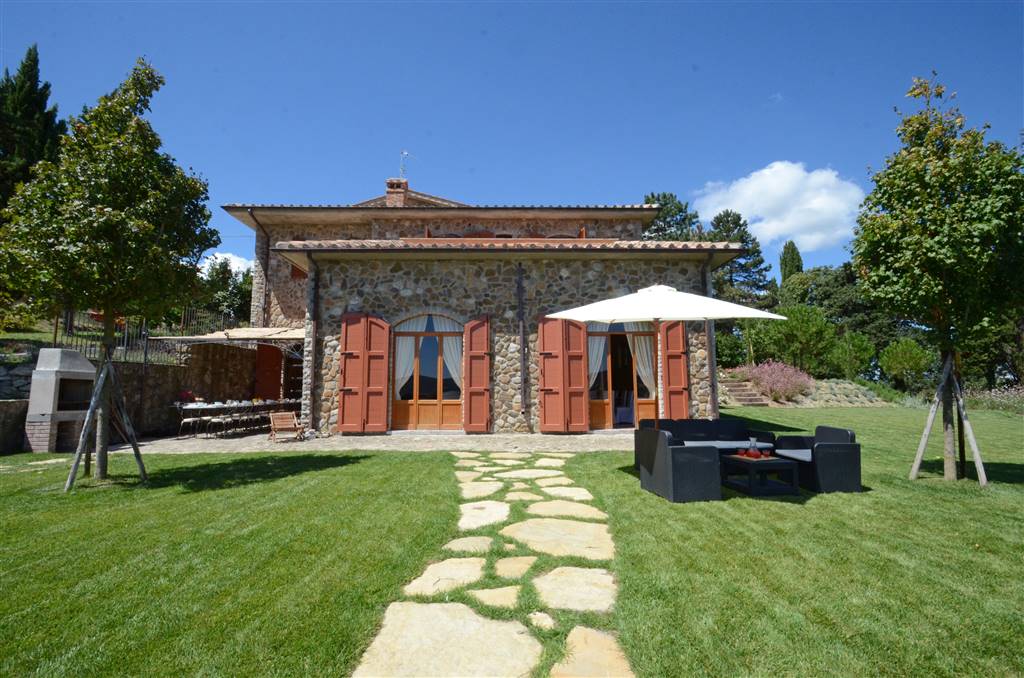 ---